The term social media is a relatively new one and has completely swept the world by storm. It refers to a digital tool that allows one to freely share media, information, opinions and in some cases, advertising across networks. It is a way of communicating between friends and businesses, staying in touch and keeping up with the latest news and happenings. Websites such as Facebook and Twitter are currently the primary tools for this type of communication, these ad-sponsored platforms are used by billions of people from all around the world as their primary conduits for real time interaction. Even sites such as Wikipedia can be considered social media as they completely rely on user based submissions. Countless applications, platforms and websites have been developed for social media. As an example, bulletin boards catering to aviation experts, quilting forums and sites that facilitate real time discussions about fashion, politics, health and entertainment all the way to the absurdly niche.
A big benefit of social media are sites which rate the integrity and quality of businesses. Trip advisor, Yelp and countless other review sites are able to give you a clear understanding whether you should make that next purchase, visit that hotel or dine at a specific restaurant in a city you're about to visit. Such services allow people to leave remarks, notes and star ratings and are very important for both the business owners and customers. Car dealerships can be rated on the quality of their service department, you can check if your local computer store is mistreating its clients or even check reviews of the local barber shop.
What we will try to cover here is how social media can be used to market your product or online business. Social media analytics is a tool used to gather customer data from different websites, blogs, social media sites in order to make sound business market decisions. Social media marketing takes advantage of the Internet networking of people to help a company broaden its customer reach and increase its brand exposure. The ultimate goal is to create content compelling, interesting or 'catchy' enough that users will share it within their own social networks and audience. Instant advertising with very little effort or cost. Processes such as social media optimization can be used for drawing new and unique visitors to your website with links to content and social media sharing buttons (Google+, Facebook, Twitter, RSS feeds) and other methods such as 'likes'. Promoting social activity with status updates, blog posts or tweets can also be used to draw in new customers.
Crowdsourcing is also recent buzzword and process that allows a company to access a large number of people to help them create or fix current products or services. Crowdsourcing involves openly engaging your clients in the future of your business and gathering opinions or critiques of current and future products. A possible huge money saver as it allows a company to dynamically and very quickly react to market conditions without much effort. Online customer service has also made a large impact, customers can effortlessly ask questions about the product they have purchased, check online resources such as FAQs, check for recalls, discounts and again, reviews from other purchasers.
A number of third party management tools exist in helping businesses gain exposure and help make sense of social media. The ones that stand out are SumoMe, Hootsuite and Buffer.
Services such as Hootsuite allow you to have a 'top down' view of all your businesses' social media activity. With a monthly service fee, the company gives you an easy to read online dashboard where you have complete control of all your companies' social media activities. You can manage your brand and your customers by quickly and efficiently post news, reviews and other types of correspondence to a variety of social media outlets with just one click. You can control how your content is shared, when exactly it's posted and where, then receive a wealth of analytical data to check the success or failure of your efforts. Hootsuite shows you what other people are saying about your brand and allows for easy management of responses and conversations. With so many different social media networks, these types of services have become an indispensable tool for efficiently managing the online presence of your business.
Buffer on the other hand is a slightly different type of service. Buffer is predominately used to publish content at scheduled intervals to all of your signed up social networks. Buffer's online analytics is very in depth and allows for a very detailed tracking of the performance of your content. You can easily view your best and worst performing posts based on engagement (likes, replies, favorites etc.) in an easy and intuitive layout.
SumoMe is a tool that helps you get new customers and therefore grow your business by bringing in new 'eyes' to your website and your products. This service makes it very easy for visitors to share your site's content including photos and posts, add their email addresses (create email lists) to your newsletter subscriptions and receive new traffic by sharing your site with the rest of the SumoMe network. Additionally, SumoMe is able to provide a massive amount of analytics data such as how long each user remained on your site, what specific pages they have visited, what's been shared and how many times and even 'heat maps' that can visually see where your visitors are clicking.
SumoMe app store.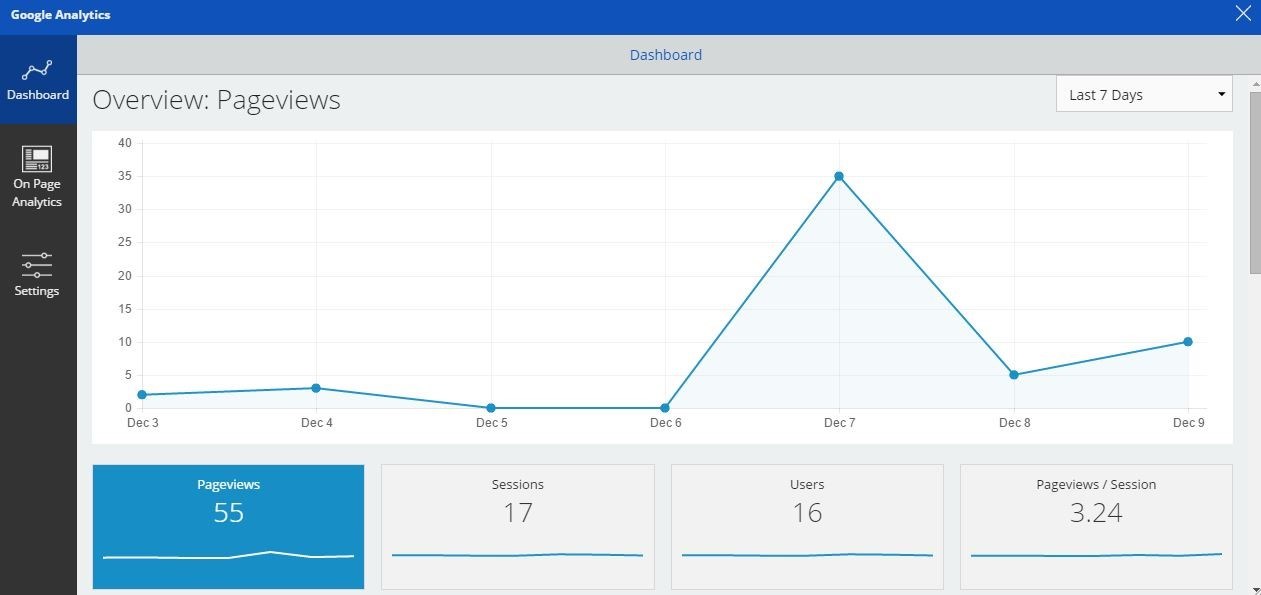 Google Analytics console.
Social media is here to stay as it has become an integral and efficient tool for modern business promotion. Companies without a social media and Internet presence will inevitably suffer in this online driven market.