In today's post we will discuss something I have always found very interesting, rich snippets. 'Rich snippets' is a term that describes the additional data that is displayed under a search result for a particular site. It provides additional information about a particular website without actually having to click on the link and visit the site directly. A rich snippet could be a direct link to a particular page on a site you are looking for, a star review and rating of a business, a rating of a single product search and number of reviewers that may determine popularity (Amazon is famous for this) or any additional information that pertains to that particular website. Rich snippets may help you greatly narrow and speed up your searches.

As you can see above you can quickly see the rating of this particular tablet directly from your search results without having to visit the site directly. Below is an example of rich snippets being used in a movie web search allowing you a quick glance at a synopsis of the movie and its rating.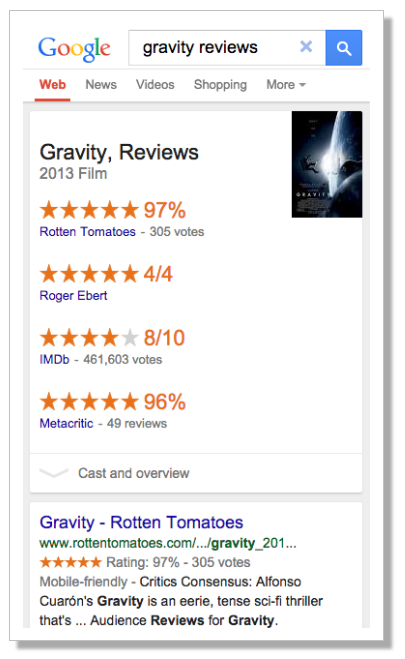 The ultimate goal for the webmasters who implement rich snippets into their site's search results is to better advertise their product and give the customer as much information as possible in the smallest amount of time in an easy to read format. The technology was implemented in 2009 and has slowly evolved into a very powerful tool. Google's rich snippet technology also allows for quick book reviews, music album information, authors and even breaking news.
Sites such as CNN use rich snippets to display recent news right within your search results allowing you to quickly glance at what's breaking without visiting the site itself.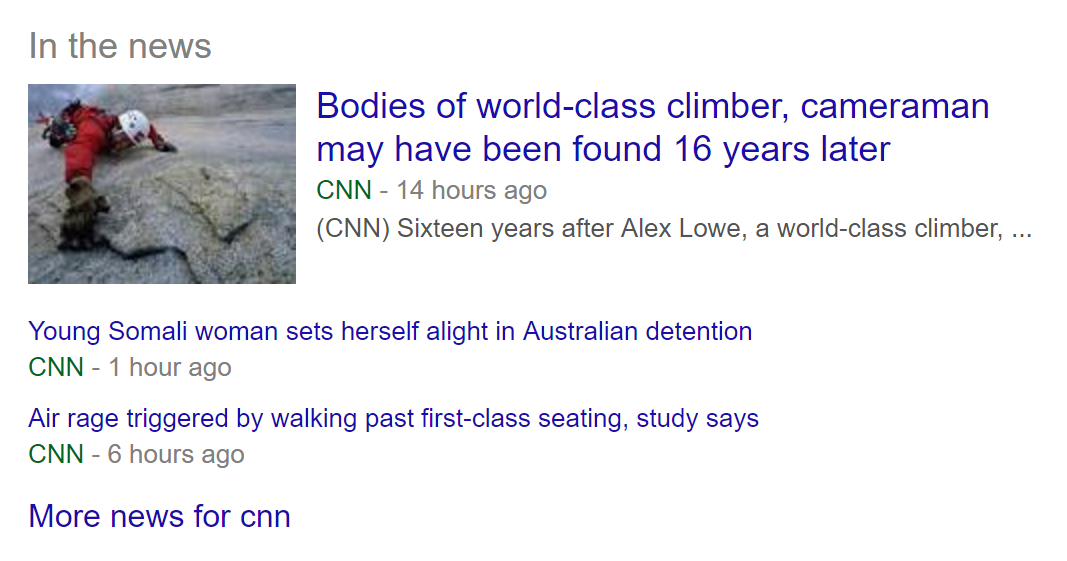 When searching for music, you can run across not only a review but also a one click option to listen to a sample of the music you're looking for, again, without having to dig though any websites.

Below is an example of rich snippets incorporating images directly within the search results.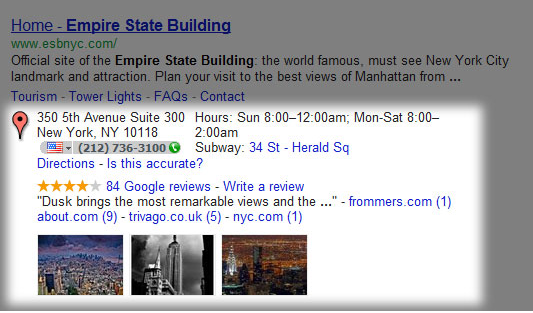 Here is a website for a music venue using rich snippets to give their customer a quick glance at upcoming events.
Below is an example of food websites using snippets to visually showcase their products.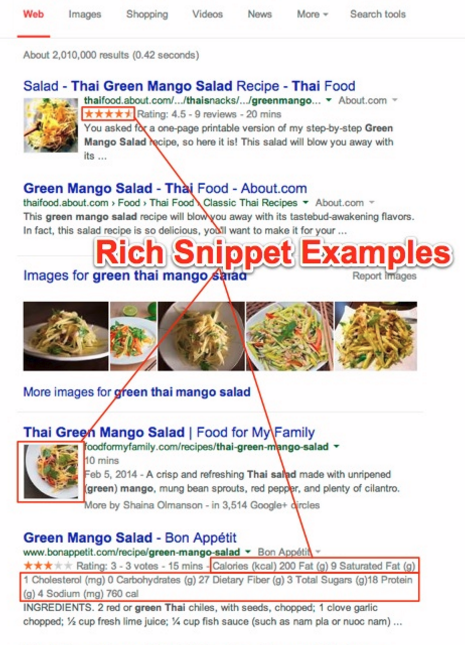 Schemas are a collection of vocabularies webmasters use to mark up their websites with structured data. It is a standardized system that works with most search engines and is organized and maintained by schema.org. This particular, community minded system allows for webmasters to get the maximum effect when promoting their online presence.
Microdata is a set of HTML5 tags that allow you to add information about your site that is directly read by the search engine. As search engines have a very limited understanding about the content of your website this system of standardized tags essentially helps the search engine easier understand your website. This LINK to schema.org describes in great technical detail on how to markup your content.
Additional benefits to adding microdata to your site is to give it some pizazz and eye catching results in hopes of increasing the click through rate. The future of rich snippets remains unclear but all bets are on that Google will continue on perfecting this system in hopes more people will not only use their search engine but spend more time within its search results.
As mentioned in greater detail in my previous post, MailChimp is an email marketing platform used to streamline the digital advertising of your product and service. MailChimp can be an invaluable tool not only in creating and efficiently sending out advertising content but its strengths also lie in the way it can provide analytics information about the demographics of your clients. Once you have setup your Google Analytics account you can then tie the power of Google together with the power of MailChimp to create a marketing platform capable of almost limitless quantification of your target audience. This post will cover the benefit of blending these two platforms together.
The main goal of this integration is to add your Google Analytics tracking into your MailChimp campaign in order to generate detailed reports about the effectiveness of your digital advertising. These types of reports can help in adjusting the effectiveness of future campaigns hopefully saving money, increasing your customer base, sales and profits.
Before getting started make sure your Google Analytics account is properly setup and configured. Once you are logged into MailChimp you will have to visit your account information then click on 'Integrations'. Please note than Mailchimp's user interface is ever changing there may be a little bit of deviation to what you see here today and what you may see a week or a month from now but the basic setup should be exactly the same.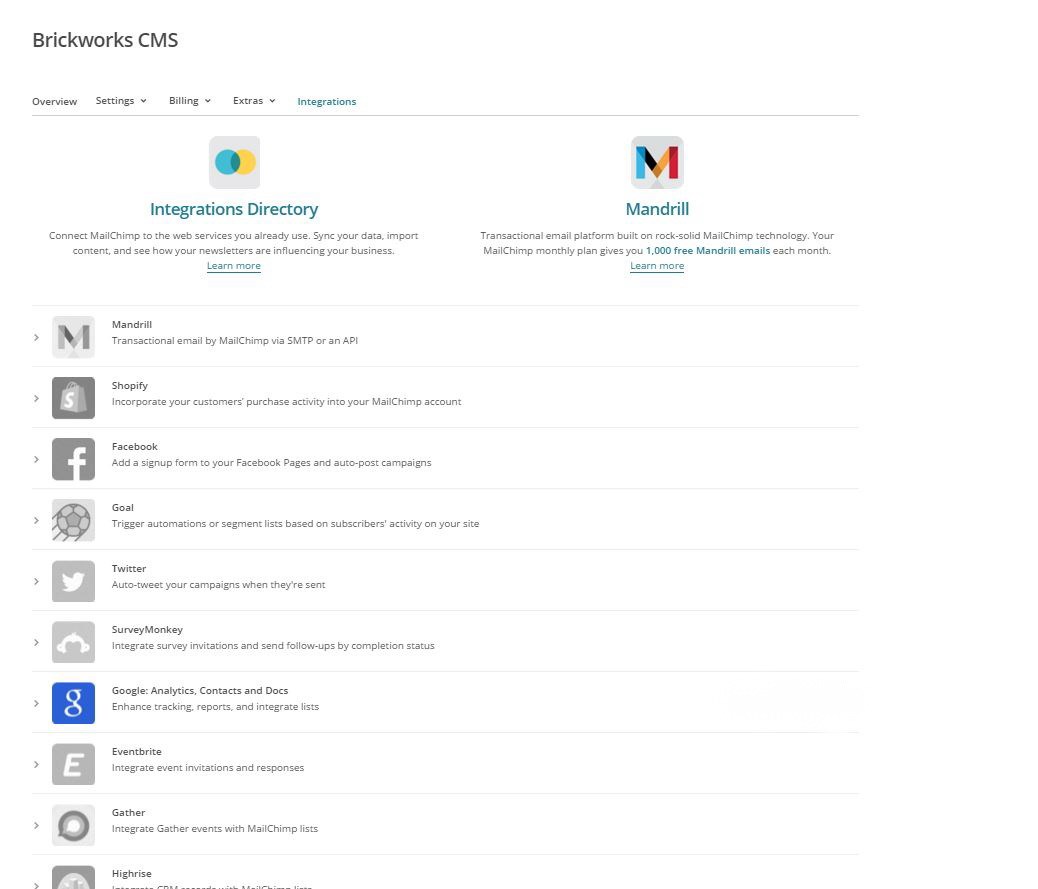 Reaching 'integrations' will allow you to choose 'Google : Analytics, Contacts, and Docs' and automatically authorize your connection to Google's servers. Please don't forget to select 'grant access' and be aware the sync process may take some time, up to 24 hours in some instances.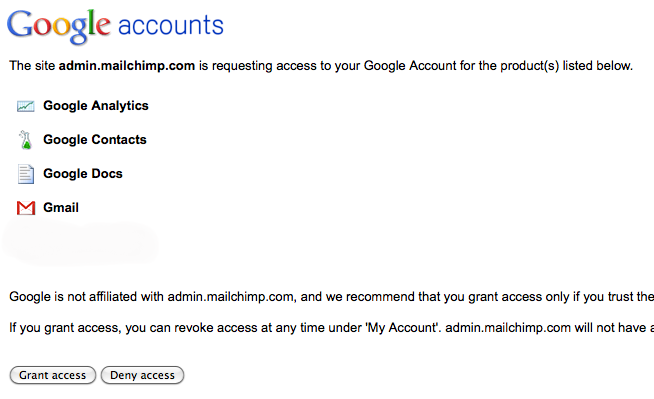 The next big step is to roll up your sleeves and start creating your very first email campaign. I briefly touched on the campaign builder in one of my previous posts but it has changed considerably since then. The user interface has been revamped and greatly streamlined with plenty of new options and more flexibility. Here you will find a friendly way for beginners to commence this task and as you can see below you have a handful of self-explanatory choices.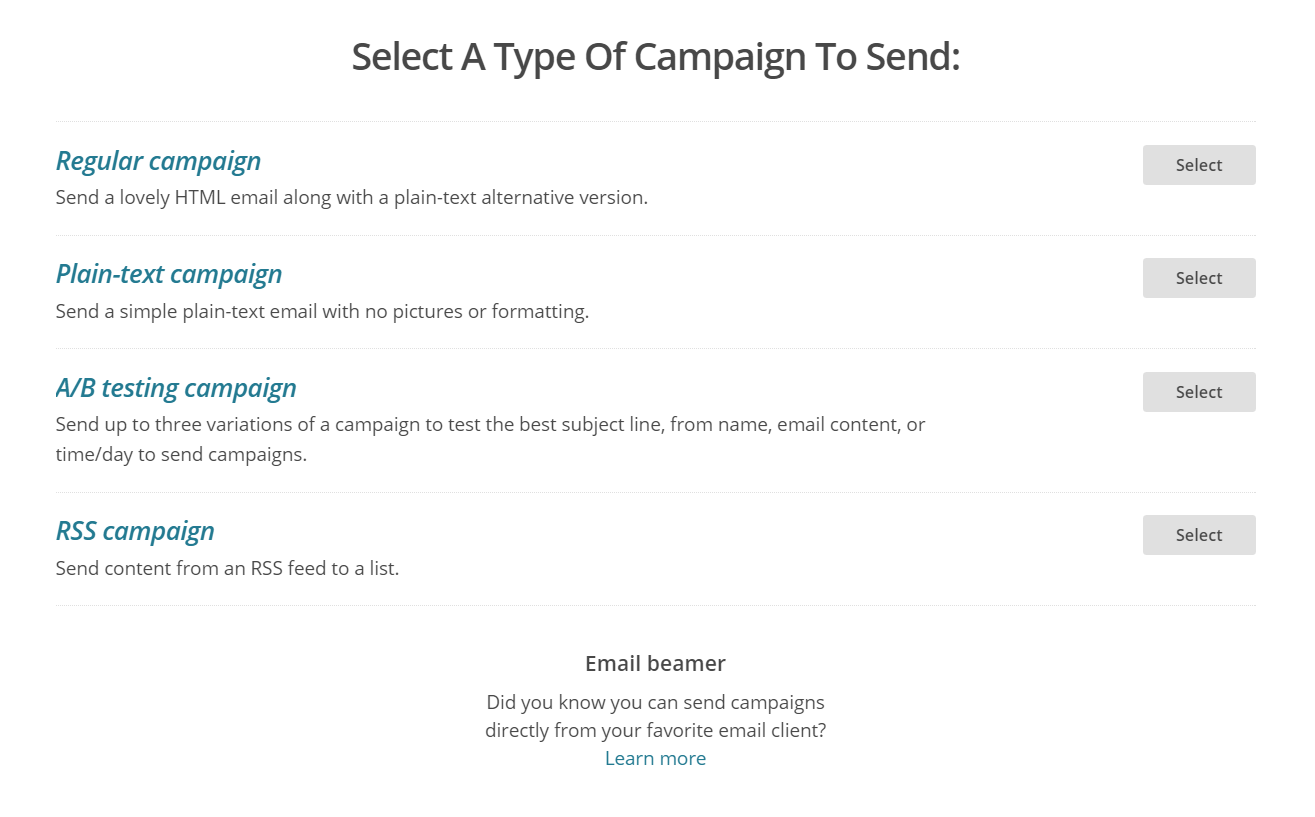 We will cover the basic 'Regular campaign' in this post as it's the most popular and perhaps most flexible way to get started for beginners.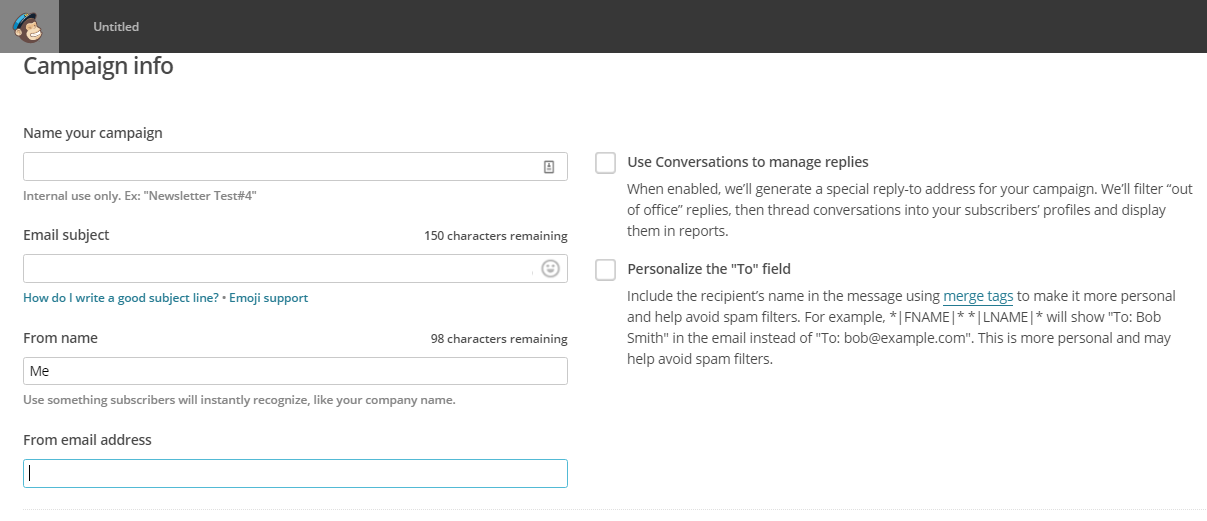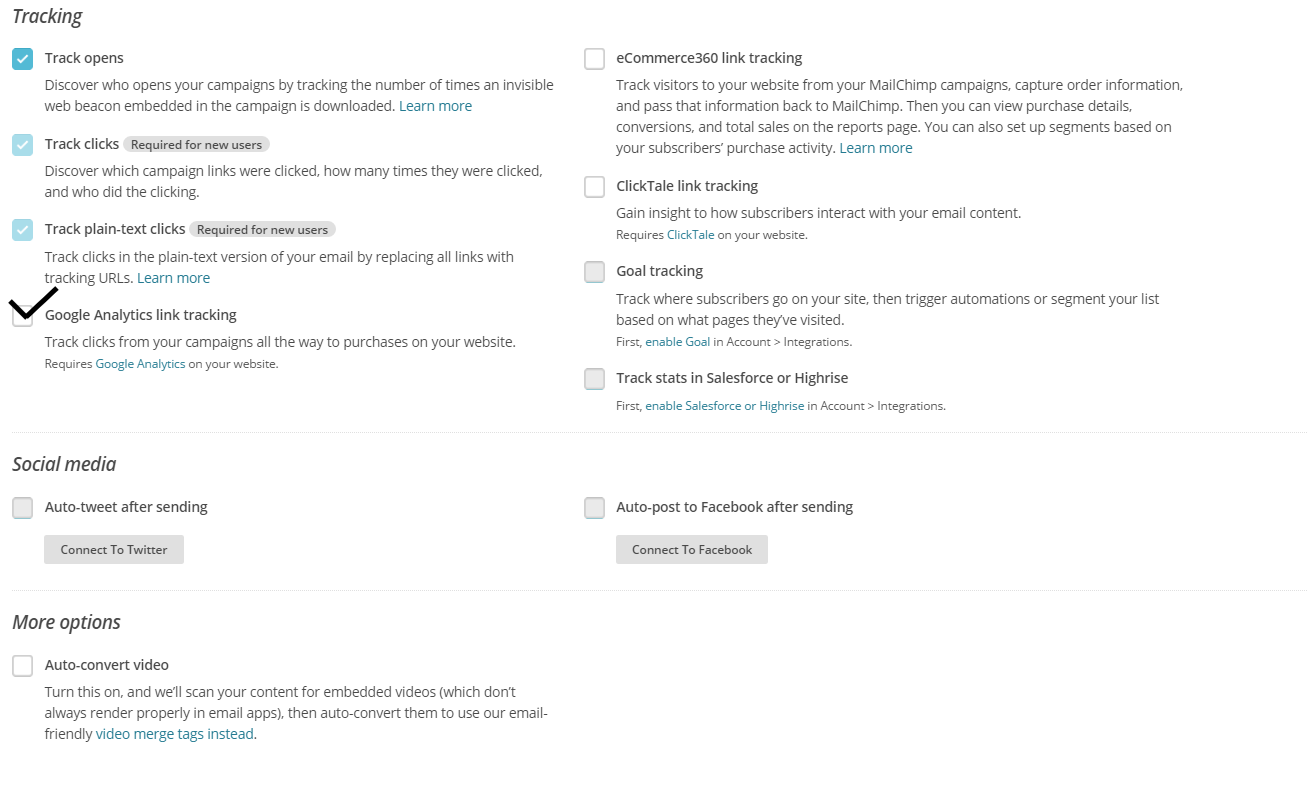 After filling out the relevant information, don't forget to select 'Google Analytics link tracking', this is the 'glue' that binds the two services together. After giving your first campaign a memorable name please click next on the bottom right corner of the website. Here you are presented with a plethora of brand new templates, select what suits your campaign best and please click next.

The email designer is fully drag and drop and it's where you fill out the main information about your product or service. Again, feel free to experiment with adding images, clip art and adjusting fonts and text for maximum impact.

Next you will be presented by Mailchimp's feedback page where the service will give you a few pointers, notify you of any errors or missing items. Once you're confident with your content, click send or schedule. The scheduler allows you to postpone and set an exact time/date for the emails to be sent.
The next step is to give the system some time to send out the messages and gather your data. After a day or two feel free to log back in and check the success rate of your efforts by going into Mailchimp's report analyzer which will provide with a wealth of information such as how many emails were opened, how many people subscribed (or unsubscribed), complaints, and how many people clicked on your links.
You can also view this information in greater detail by logging into your Google Analytics dashboard where you will now find a new campaigns section on the left pane of the page. Here you will be able to see statistics such as location, email domain performance, bounce rate, session duration, conversions and even purchases in the report's explorer tab. One of the most powerful features are 'subscriber activity report's which can illustrate even more in depth real time data such as when a subscriber 'returned' to the same email or even help you generate subsequent 'softer' custom campaigns for people who didn't even open the email at all.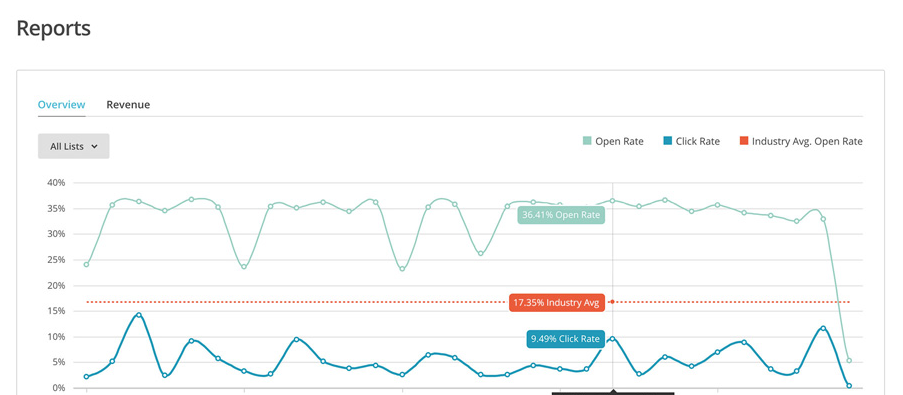 This concludes the introduction to this integration and please keep in mind the almost boundless flexibility of this system where a little experimentation and a bit trial and error goes a really long way.
The core principles of advertising haven't really changed in centuries. Generally, a business is looking for customers or an audience as it tries to create a persuasive case that their product, service or brand is worth investing in. With the digital age, modern forms of advertising have only really evolved by the way they are delivered. From newspapers in the 1800s, radio and television, direct mail, telemarketing to the modern era of the Internet.
Email has been around since the 1960s and using this form of communication as a vehicle for advertising and promoting products and services is relatively new. In 2016, over 100 billion email messages are sent every day, a staggering number. email marketing is essentially a form of direct mail but without the physical aspect and the high cost of print and delivery. Environmentally friendly and incredibly inexpensive, Email appears to be the perfect way to promote and sell.
There are many different types of email marketing. You may receive a message simply talking about the benefits of a product or service, it could be a message used to strengthen the loyalty between the business and customer or a "hard sell" Email advertising a price drop or a limited time release of something new and something you just "must have". Another example of digital marketing is regular messages that may send out coupons or special features and discounts trying to lure the recipient into the advertiser's brick and mortar store.
One of the biggest benefits of electronic marketing is that it can be easily analyzed and tracked. Following an email campaign, specialized software can be used to examine the statistics and effectiveness of the effort. The sender can track how many emails were opened, which region of a country or a city responded the most and how many recipients clicked on any of the links embedded in the message (referred to as the 'click through rate'). One of the detriments of sending out email marketing is the concept of permission; many times these messages are sent out as unsolicited and may even go against certain laws. In the United Kingdom, the Privacy and Electronic Regulations address the legislation of electronic marketing and can fine the senders of unsolicited emails up to £500,000 depending on severity.
Sending out newsletters at regular intervals can be a very effective means of keeping your clients informed about your business by keeping regular contact. They can include news about the company and relevant articles about the product or service. Many companies provide a service to streamline and simply this type of marketing for free or a small fee. MailChimp is at the forefront of marketing services. This 15-year-old company is a fully fledged Internet email marketing platform and its easy to use web based software allows for:
- Complete design of marketing material with multimedia, hyperlinks, images and text.
- Create and keep track of client information databases and flexibly create multiple lists of recipients.
- Quickly and easily send out your marketing materials to millions of users.
- Analyze the data about the sent emails.
MailChimp web based dashboard.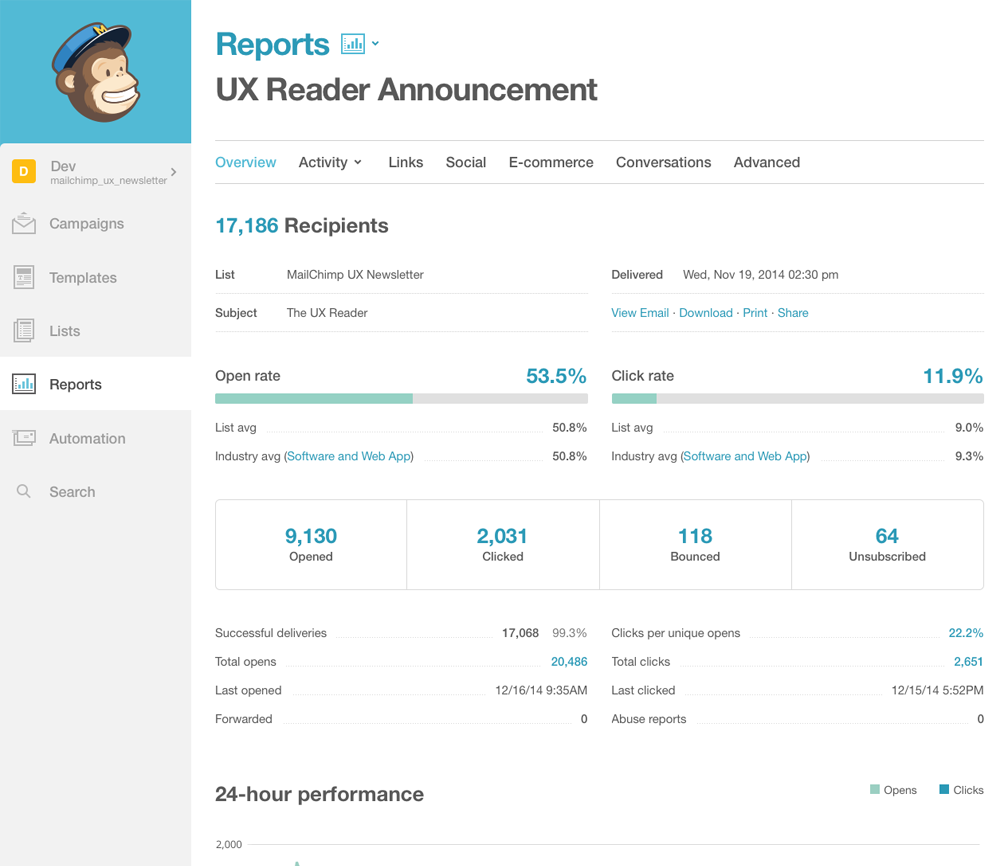 MailChimp mobile app.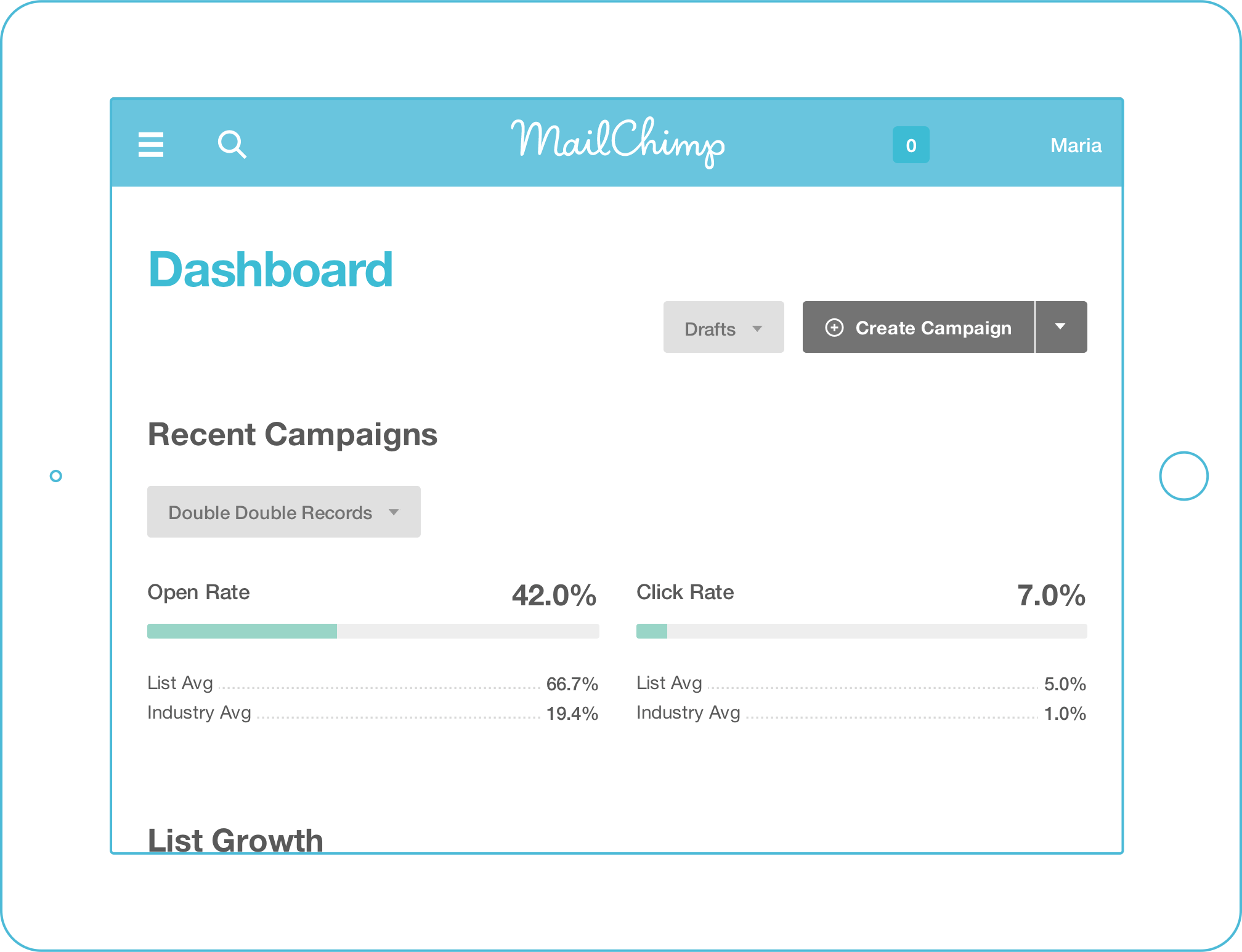 MailChimp can also be integrated with social media networks such as Twitter, Facebook and Google+ and used to gather new customer information and most importantly, the service complies with government anti-spam regulations.
Getting started with MailChimp is incredibly easy, businesses with 2000 or fewer customers can use the service free of charge to send up to 12,000 messages per month. Certain features such as 'deliver by time zone', automation, Salesforce integration, onboarding, high volume campaigns and technical support are only available with paid accounts which start at $20/month. The term 'onboarding' refers to sending out an email used mainly to make a first impression, extend a welcome to new subscribers and show a few brief notes about what your business has to offer. With the paid plans, automation, allows a business to send out precision messages catered directly to each user's demographic and buying habits according to previously collected data (gender, age range, geographic location and even currency type).
The emails sent through MailChimp can be easily managed by their recipient whether to unsubscribe, request more information or change the message's focus on a different product or service
Setting up an account with the service is as simple as answering a few basic questions and after uploading your subscriber list (plain text, CSV, Excel etc.) or manually entering the recipient's email addresses you're ready to start your marketing campaign. Keep in mind that MailChimp will only let you email customers who have previously 'opted in' and subscribed to receive marketing information from your business. Abiding by this process, it is theoretically not possible to send unwanted (spam) messages to unwilling customers.
The most efficient and easiest method to gather new customers for your email marketing is through your own website or social media. Creating an easy to follow email form on your company's site is usually enough to obtain email accounts and get people signed up.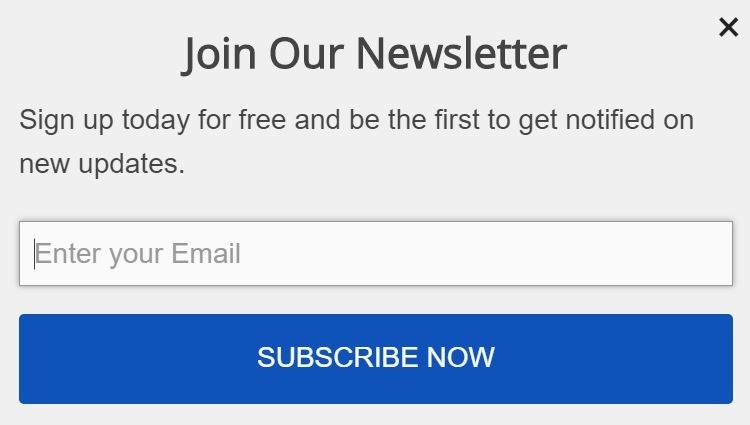 Campaign Monitor is another online service that will help you with your digital marketing. After the simple sign up and login you are greeted with your personalized campaign start page.
Campaign Monitor's start page.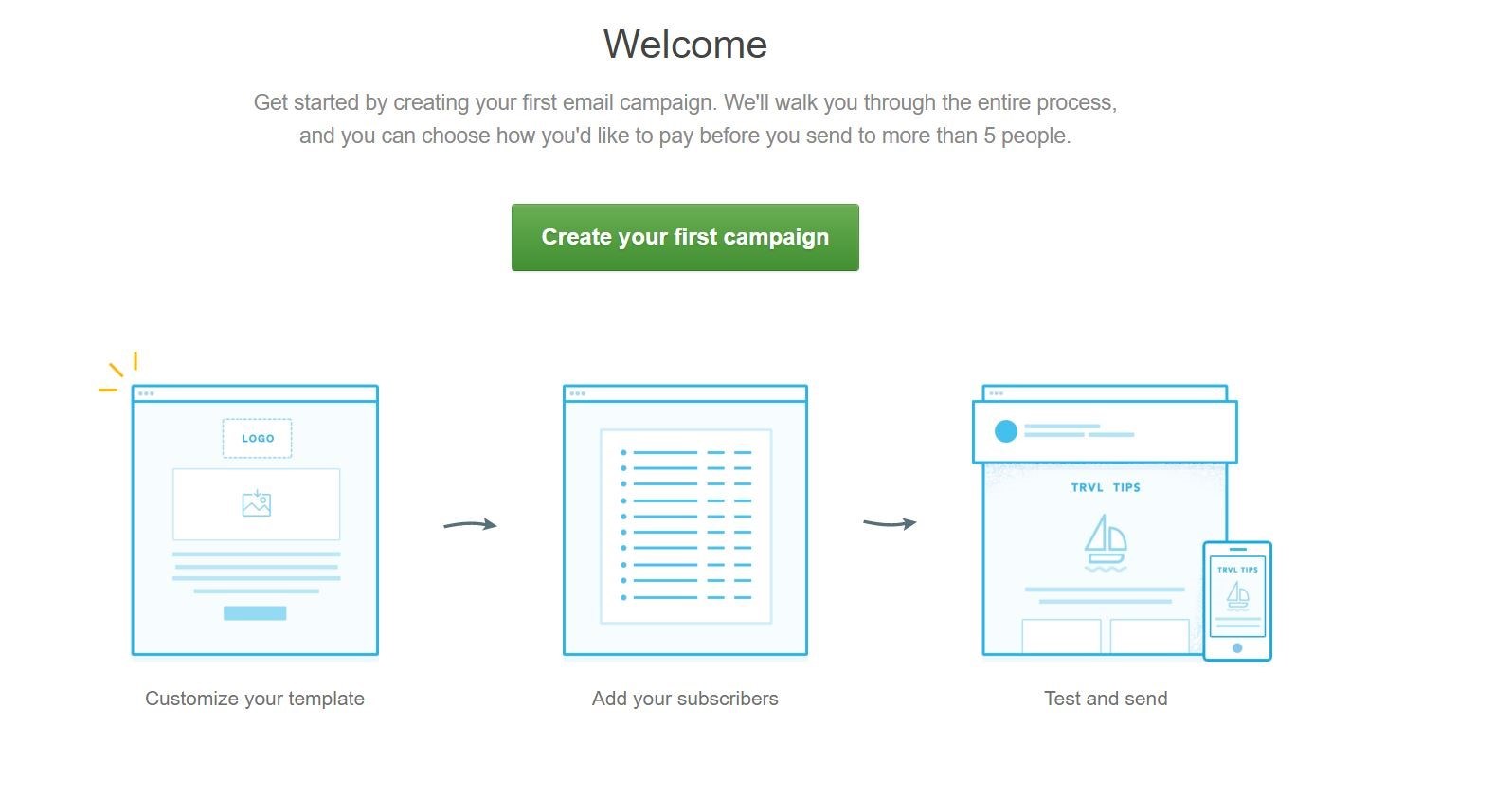 Campaign Monitor's easy to follow wizard.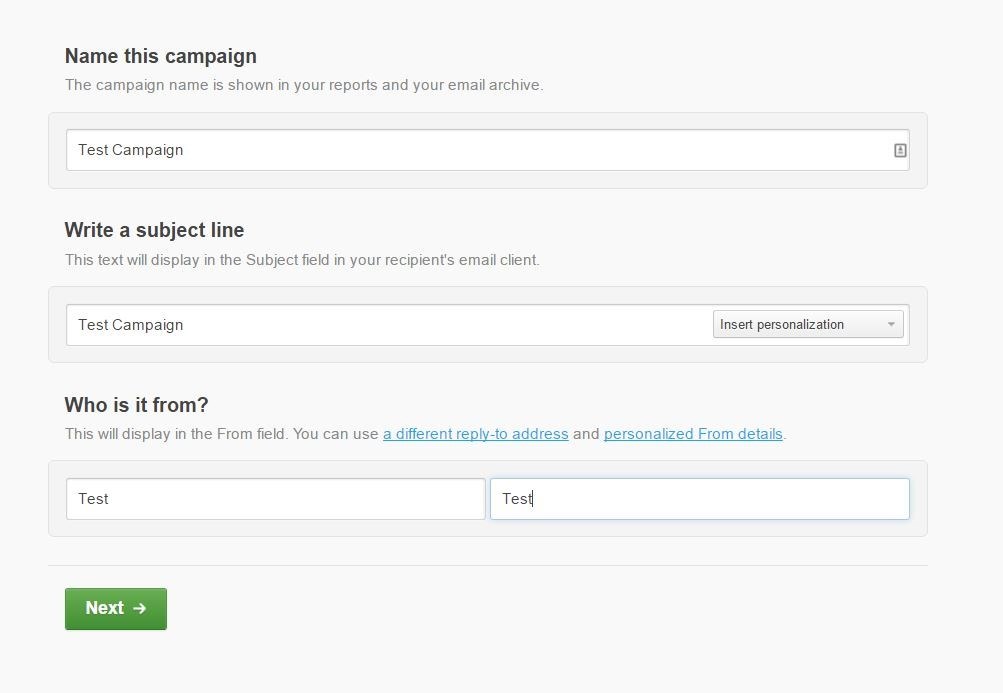 You can choose from countless professional and vibrant email templates.
Online email template editor.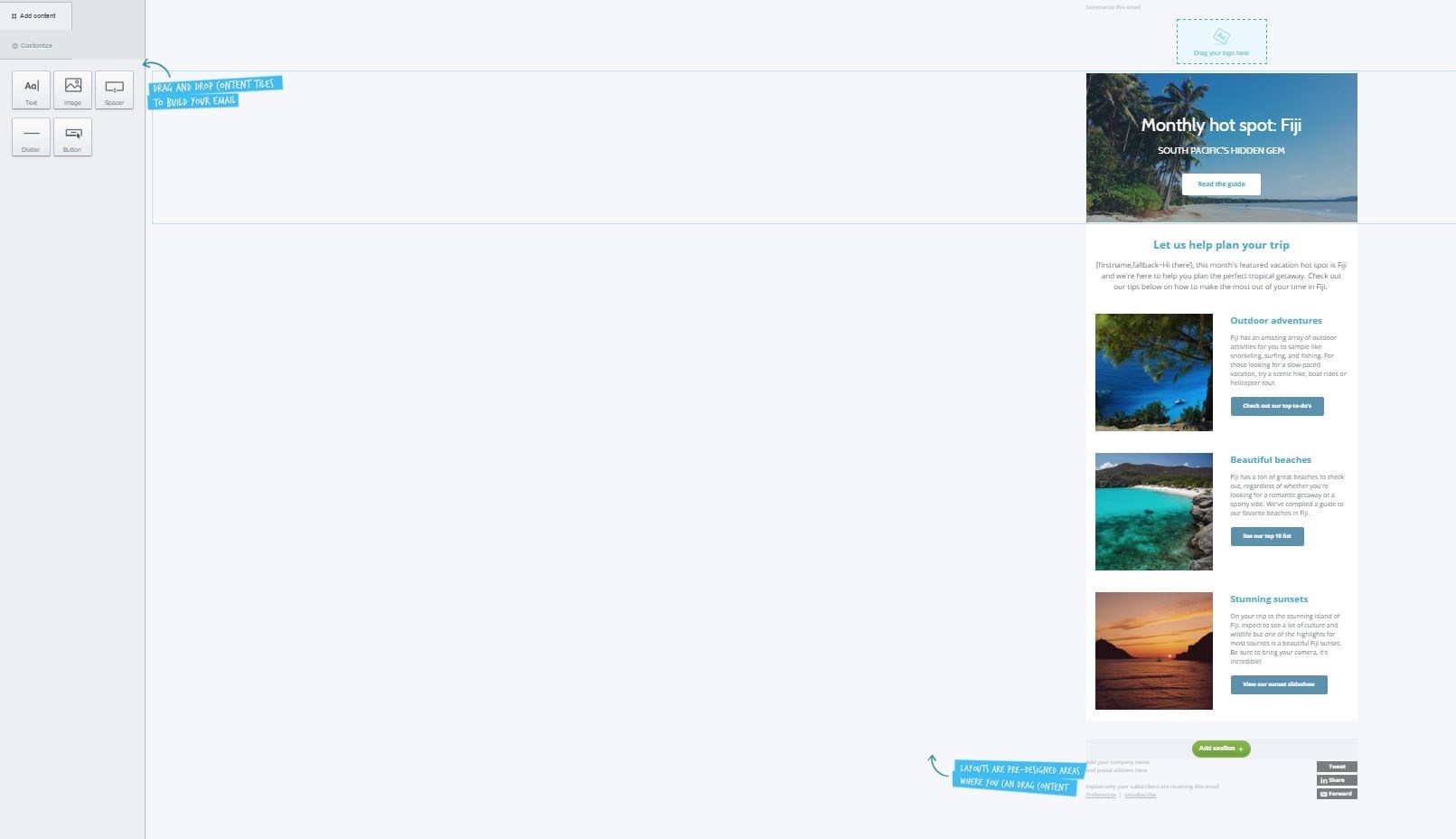 The online editor supports dragging and dropping of images, text and multimedia links and best of all the information is automatically stored and backed up on Marketing Monitor's servers. Clicking preview will give you a visual representation of exactly what your recipient will receive and once you have entered an email list (or imported a client database), the only thing left is clicking the send button.
Plans range from $9 and go up from there. For the 1st and least expensive tier you are able to send up to 2500 messages. The unlimited email and campaign plan costs $49/month.
This service also supports email automation where your client can receive a number of welcome emails, can sign up for different memberships, subscribe (or unsubscribe) from different service and even send timed reminders all from within the campaign dashboard.
The two mentioned services are the most popular but there are many others. Most of them provide a free trial allowing you to test their effectiveness and ease of use. When done right, proper email marketing can greatly boost the visibility of your business and increase sales. Furthermore, hiring experts to guide your company in the right direction may be very beneficial in the effectiveness of your campaign. Finding the right fit between a good value and return on investment is key and may take some trial and error. Getting a high Click Through Rate (CTR) from your customers will always be challenging and sending out easy to read and properly worded content is very important.
Below is an example of an email designed to get your customer's attention by offering discounts and suggesting urgency.
Electronic advertising can almost be considered an art form as it's used to draw people's attention, play with their emotions and may even provide knowledge and entertainment.
The term social media is a relatively new one and has completely swept the world by storm. It refers to a digital tool that allows one to freely share media, information, opinions and in some cases, advertising across networks. It is a way of communicating between friends and businesses, staying in touch and keeping up with the latest news and happenings. Websites such as Facebook and Twitter are currently the primary tools for this type of communication, these ad-sponsored platforms are used by billions of people from all around the world as their primary conduits for real time interaction. Even sites such as Wikipedia can be considered social media as they completely rely on user based submissions. Countless applications, platforms and websites have been developed for social media. As an example, bulletin boards catering to aviation experts, quilting forums and sites that facilitate real time discussions about fashion, politics, health and entertainment all the way to the absurdly niche.
A big benefit of social media are sites which rate the integrity and quality of businesses. Trip advisor, Yelp and countless other review sites are able to give you a clear understanding whether you should make that next purchase, visit that hotel or dine at a specific restaurant in a city you're about to visit. Such services allow people to leave remarks, notes and star ratings and are very important for both the business owners and customers. Car dealerships can be rated on the quality of their service department, you can check if your local computer store is mistreating its clients or even check reviews of the local barber shop.
What we will try to cover here is how social media can be used to market your product or online business. Social media analytics is a tool used to gather customer data from different websites, blogs, social media sites in order to make sound business market decisions. Social media marketing takes advantage of the Internet networking of people to help a company broaden its customer reach and increase its brand exposure. The ultimate goal is to create content compelling, interesting or 'catchy' enough that users will share it within their own social networks and audience. Instant advertising with very little effort or cost. Processes such as social media optimization can be used for drawing new and unique visitors to your website with links to content and social media sharing buttons (Google+, Facebook, Twitter, RSS feeds) and other methods such as 'likes'. Promoting social activity with status updates, blog posts or tweets can also be used to draw in new customers.
Crowdsourcing is also recent buzzword and process that allows a company to access a large number of people to help them create or fix current products or services. Crowdsourcing involves openly engaging your clients in the future of your business and gathering opinions or critiques of current and future products. A possible huge money saver as it allows a company to dynamically and very quickly react to market conditions without much effort. Online customer service has also made a large impact, customers can effortlessly ask questions about the product they have purchased, check online resources such as FAQs, check for recalls, discounts and again, reviews from other purchasers.
A number of third party management tools exist in helping businesses gain exposure and help make sense of social media. The ones that stand out are SumoMe, Hootsuite and Buffer.
Services such as Hootsuite allow you to have a 'top down' view of all your businesses' social media activity. With a monthly service fee, the company gives you an easy to read online dashboard where you have complete control of all your companies' social media activities. You can manage your brand and your customers by quickly and efficiently post news, reviews and other types of correspondence to a variety of social media outlets with just one click. You can control how your content is shared, when exactly it's posted and where, then receive a wealth of analytical data to check the success or failure of your efforts. Hootsuite shows you what other people are saying about your brand and allows for easy management of responses and conversations. With so many different social media networks, these types of services have become an indispensable tool for efficiently managing the online presence of your business.
Buffer on the other hand is a slightly different type of service. Buffer is predominately used to publish content at scheduled intervals to all of your signed up social networks. Buffer's online analytics is very in depth and allows for a very detailed tracking of the performance of your content. You can easily view your best and worst performing posts based on engagement (likes, replies, favorites etc.) in an easy and intuitive layout.
SumoMe is a tool that helps you get new customers and therefore grow your business by bringing in new 'eyes' to your website and your products. This service makes it very easy for visitors to share your site's content including photos and posts, add their email addresses (create email lists) to your newsletter subscriptions and receive new traffic by sharing your site with the rest of the SumoMe network. Additionally, SumoMe is able to provide a massive amount of analytics data such as how long each user remained on your site, what specific pages they have visited, what's been shared and how many times and even 'heat maps' that can visually see where your visitors are clicking.
SumoMe app store.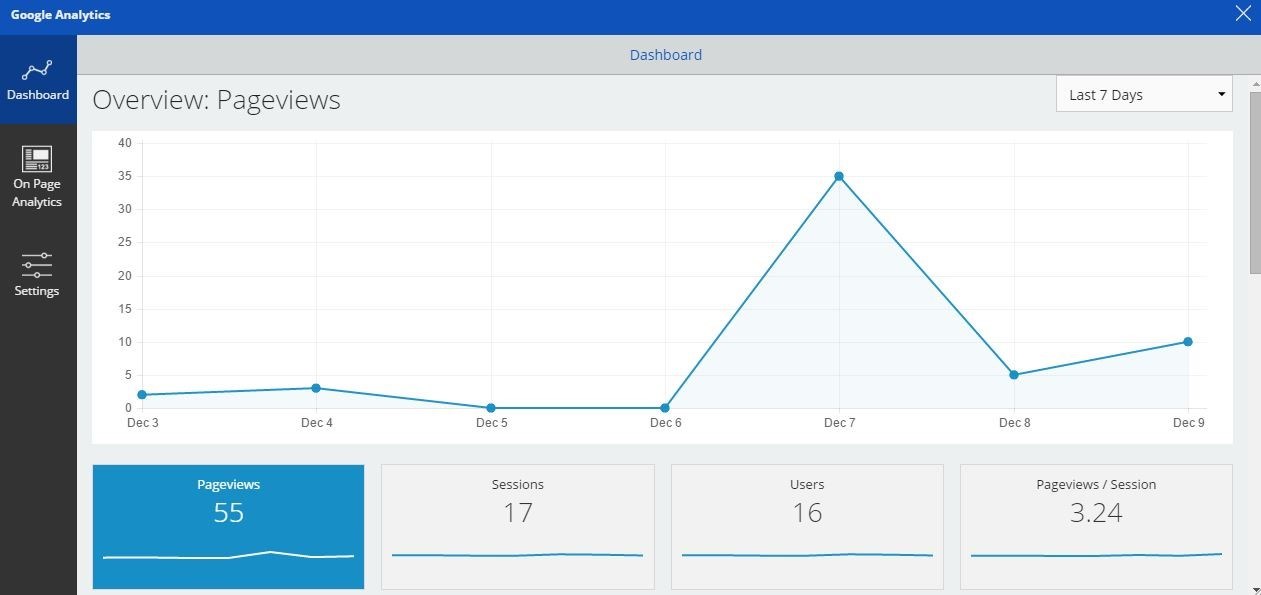 Google Analytics console.
Social media is here to stay as it has become an integral and efficient tool for modern business promotion. Companies without a social media and Internet presence will inevitably suffer in this online driven market.
Google
Google's search engine dominance is hard to escape. For many, the company is synonymous with the Internet and for others it's an indispensable business, advertising and research tool. Google's reach into our daily life is almost difficult to comprehend. They are the developers of Android, the world's most popular mobile operating system, they have a plethora of web apps to compete with Microsoft's ubiquitous Office suite along with countless offerings many of us take for granted such as Google Maps, Gmail and Chrome. Google Internet search is their granddaddy and the main core of their operations. Google's software "robots" scour every corner of the net in order to efficiently and extremely quickly bring you relevant search results and properly guide you to the information you need. At the software heart of the company is an algorithm called "PageRank". PageRank, is an extremely complex and constantly tweaked mathematical formula that determines the importance of websites. Describing this system is way beyond the scope of this blog posts but in layman's terms the algorithm determines website's popularity (it's ranking) by how many links the site receives from other sites. Naturally, the more, the better. It must be noted that it's not the only system Google uses to rank websites but it's by far the most important. Google's massive datacenters are scattered all around the world and serve a mind boggling 40,000 searches per second or 3.5 Billion searches per day.
Google Analytics
No matter what platform or programming language you have used to develop your website, if you want the world to see it, you must rank as highly as possible on Google's ranking system. With millions of sites vying for the top spot it can be extremely hard or, at times, impossible to even rank within the first 10 page results. Your 'best friends' in trying to propel your site to that coveted top stop are Google's own services, Google Analytics and Google Webmaster Tools. Google Analytics is a very complex and in-depth system for tracking and reporting on your online assets, in many cases in real time. With a small snippet of tracking code in your website, Google can freely monitor any content changes and traffic in order to help you rank higher and possibly gain more business from your online venture. Best of all, with it's incredibly in-depth tracking tools, you are easily able to see the amount of traffic you are receiving and when. You can witness where the clicks are coming from, which region, country or even city. You can visualize how long your customers are browsing the site for, what specific pages or products are most popular and just as importantly, which pages are visited the least. This data can be invaluable for your business as you can swiftly adjust to your customer's demands and provide them with a more catered and quicker service. Just imagine starting an advertising campaign for your online business then being able to track its effectiveness just by checking out the "Audience Overview" on your Google Analytics page. Yet another important matrix is what type of a device or web browser your customers are using. If you are seeing an influx of clicks coming from mobile devices such as smartphones, tablets and mobile browsers, then maybe it's time to make your website mobile device friendly and easy to navigate on smaller screens. As a completely free tool, Google Analytics should be the first thing one should setup after uploading their site to the Internet, it is an indispensable tool especially when trying to monetize from your online presence.
Google Search Console (Previously - Google Webmaster Tools).
Google's often overlooked but equally important instrument for optimizing the visibility of your website is the recently renamed Google Search Console. In a nutshell, it is yet another free service offered by the search giant to help you with your site's ranking and optimize visibility. Once properly configured, the tool easily allows you to view what Google is doing with your site. You can check the frequency your website is being crawled by Google's robots, you can view security issues the site may be having, check for crawl errors and easily request manual index submissions. One of the most important ways you can aid Google in properly indexing your site is to create and submit a sitemap. A sitemap is a simple structured XML document that displays all of the web site's content, it can prevent indexing errors and may help speed up Google's crawling of your site. It can be easily created with simple tools and submitted using the Google Search Console. A sitemap can also be used to help your users navigate your website, similar to a virtual table of contents.
Digging a little deeper into Google's tools you will find plenty of other features that may help you run your site efficiently and safely. One of the biggest problems on the Internet is security, having the ability to visually inspect your traffic and its sources can help keep your site running smoothly. Returning to Google Analytics you will find the ability to find out if your site is being examined by unsavory Internet bots or search engines you may not want your site to be indexed by. These types of visits can severely skew your search data and even be used for malicious attacks such as SQL script injections full of redirects to shady advertising websites or denial of service attacks (DOS). There is a two pronged approach when dealing with such issues, one is to simply block the offenders by using an exclude filter, then placing your site behind a CDN. A CDN or Content Delivery Network is a system of Internet connected computers in massive datacenters that provide not only faster access and lower latency to your site based on geographical but also keeps it secure. A CDN works as an intermediary between your site's host and the rest of the Internet, it examines and filters unwanted packets keeping your site running smoothly. We will cover the benefits of a CDN in subsequent posts.
Setting up Google Analytics.
In the second part of this post I will illustrate the basics in setting up Google's Analytics and Search Console. Please note that these services are very dynamic and change frequently with new features and user interface changes. What you see in the illustrations below may not apply %100 in future versions.
The first step, of course, is to get a Google account. It's an easy and very self-explanatory process of entering some basic information and choosing a prefix for your email address. Your Google (Gmail) account is the key that opens up all of Google's services and perks.
Getting started with your account and receiving a tracking ID.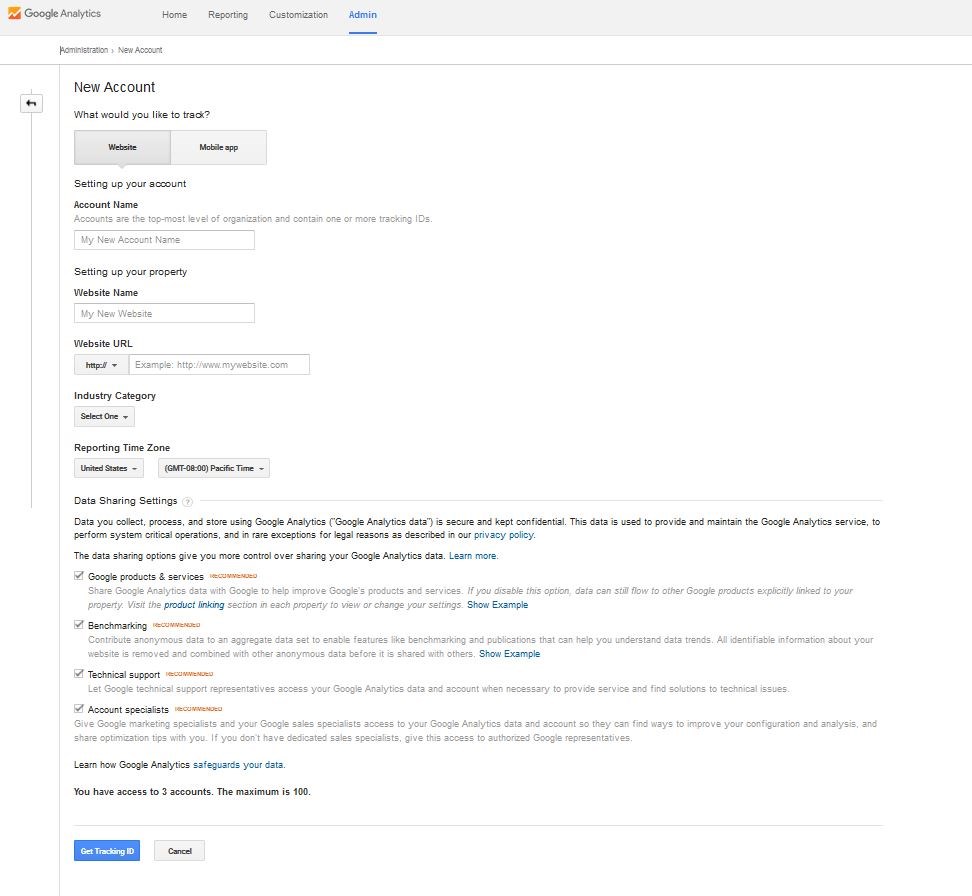 Before you begin this process you absolutely must have access to your website and be able to freely edit its code. Google Analytics requires that you 'inject' a small snipped of their generated tracking script. [KW1] The process is basically a web based step by step wizard requesting you to copy and paste a little bit of code into the header of your own site. This little snippet needs to be placed before the </head> tag in your HTML or in some cases placed in a special area of your CMS designed especially for this task. Save your changes and give Google some time to update those changes on their back end. Sometimes it may take just a few minutes (you can check this by clicking on the 'real time' analytics link) or just give everything a few days [KW2] to 'catch up'. Please keep in mind there are 1000s of sites being indexed at that one split second when you submitted yours. At this step, patience is key. Additionally, if you are having troubles with this process and the site is barraging you with cryptic error messages, there is an easy option for Google to email this information over to your webmaster to take care of.
Here is an example of the code and tracking ID automatically generated by Google.
If you only have one domain, then make sure you check that off then decide if you will be using Google's advertising business, AdWords. We will be covering Google's advertising platform in future posts. Please note that you can always go back into these settings and make changes at will, nothing is set in stone.
After a little patience you should start seeing some traffic on your site.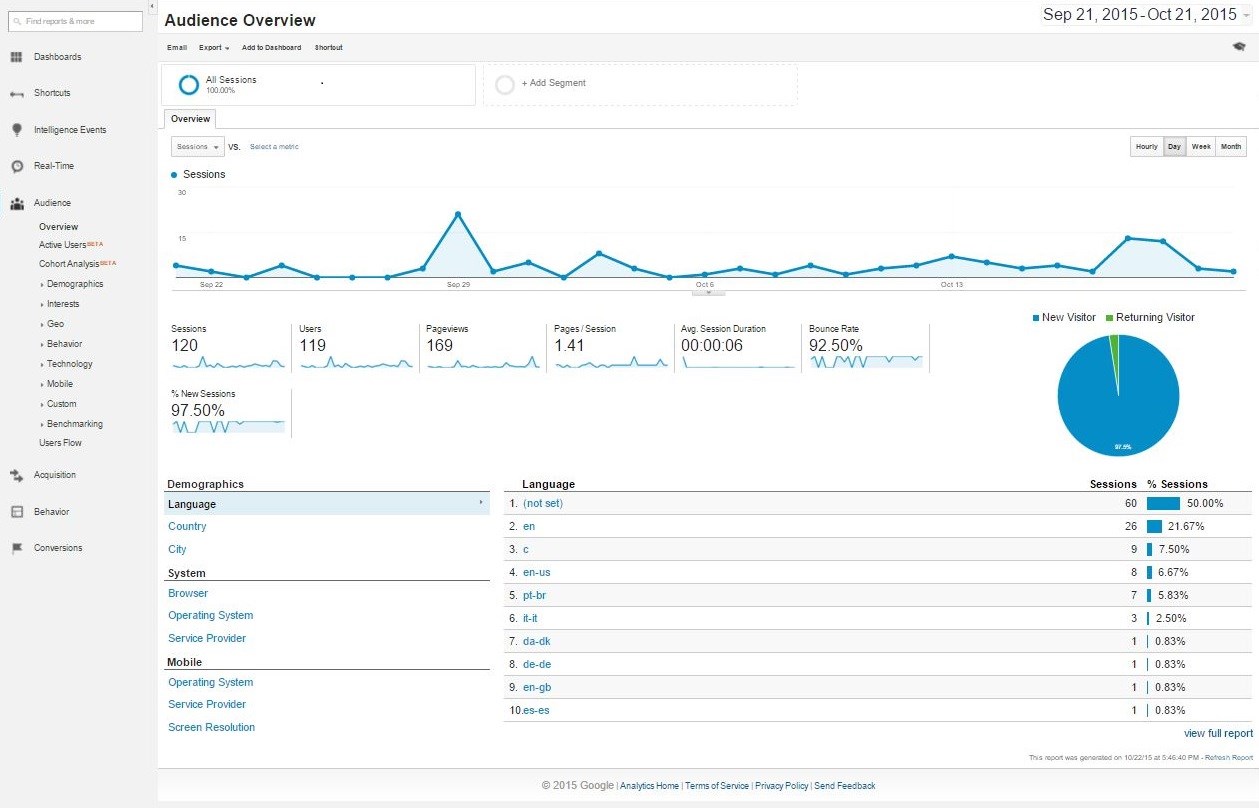 The flexibility of Google's filters is vast and almost fun to play with. You can easily see if the majority of your audience is coming from your neighborhood, only big metropolitan centers or a country from around the globe. The filters can also allow you to remove data you may not be interested in such as other search engines indexing your site, spambots looking for exploits or other malicious traffic. The incredible and very in depth flexibility of setting up custom reports (including demographic and interest, setting goals etc.) will be covered here in future posts.
Here is Google's filter customization section.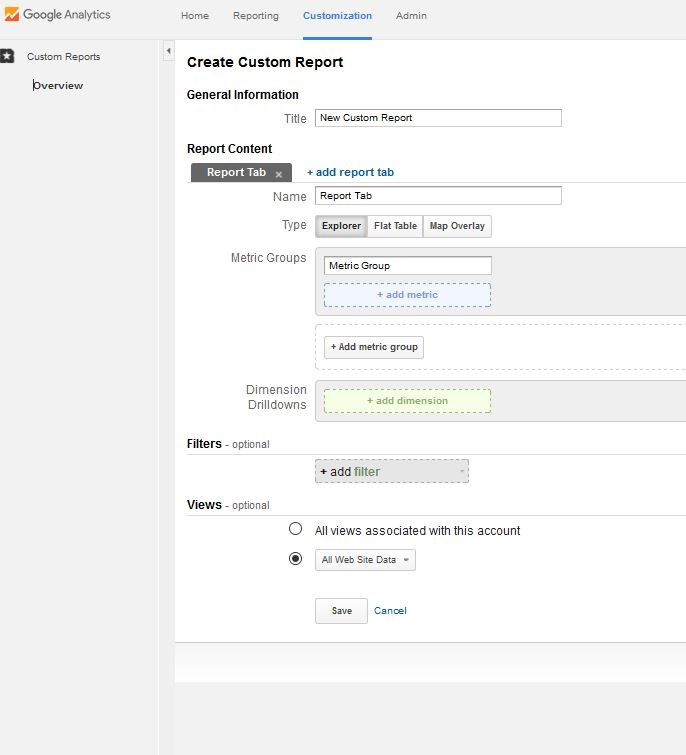 Having this type of data can take some of the guesswork out of understanding your customer base and allows you to focus the proper marketing in the proper direction.
Next time we will be looking into the magic of social media and its tremendous impact on today's modern businesses.
Basic on-site SEO
Search Engine Optimisation (SEO) is a buzzword that's sure to have come up if you own a business website. Maybe you know all about it and are an expert. Perhaps it's something you might have dabbled in or may only have a limited knowledge of. This article is for the latter. You need an understanding of HTML and how to view your website's source code. Most Content Management Systems allow this, but that's outside the scope of this article.
SEO is the process by which you adjust your website's content and structure to accommodate the search engines that people use to find your website when they enter in keywords. You are fine tuning your website to gain relevance (and rank). This means your website receives more visitors. The end result is more business for your products or services.
We can divide SEO into "on-site" and "off-site" activities. "On-site" activities are changes that you can make to your site. We will cover "off-site" activities in a future post. This article discusses the TOP 10 "on-site" optimisations you can make to your website.
1. Links
Links on your site and other sites contribute to how search engines perceive the relevance of your website. You cannot exert direct control on external websites' linking to your websites. There are several strategies (known as link building) that you can use but these are for a future post. Internal links on your site are also important to establish site structure for the search engines. If your site contains pages that are not accessible through the navigation or page links then, as far as the search engines are concerned, they don't exist. Examples of pages that may not be accessible:
pages where you need to fill out and submit a form
pages where you need to log in
pages that are only found by entering data into a search box
2. Make your content relevant and fresh
It sounds obvious but one of the best things you can do is reflect what your business does. How? By providing content that explains this. If you want users to enter in keywords into a search engine to find your site, how will they find it if your content doesn't embody those keywords? When you write your content each page should have about 100 words so the search engine can actually determine what the page is about. Make sure you use these keywords in your content but don't saturate the page with them (this doesn't help the SEO). When explaining your products or services try and use as many synonyms as you can. This helps because you never know what terms people will actually be looking for. If the keywords aren't in your site then there is no chance of people finding it by using them.
The second thing to remember is to freshen up your content and change or add things on a regular basis. The search engines know that successful websites are ones where people want to return to for new information. Things like a blog or news feed are ideal for this. They allow you to communicate new information about your products and services to your audience. Fresh content, offers, social media and user engagement are all important. The longer a user stays on your site, the more the search engines consider it.
3. Titles
It goes without saying that your page title is the most important HTML tag to describe your page. Here is an example of the title tag:
<title>Brickworks CMS - Brick Blog - website tips</title>
The title tag is the tag that provides a brief description of your website. The tag is ultra important for 3 main reasons:
1. It appears at the top of the browser's tab to identify the site. It tends to be what users will see if they bookmark your page (unless they change it):

2. It is the first thing that appears in the search results for you site and the link to it:

3. It is what is usually seen in the anchor when you or someone shares your page on Social Media:
The title tag should be brief and concise and not be longer than 50 or so characters. Don't forget, this is your first point of call to your end user so the title should have important keywords in it. If your brand is important, it should be in there too (whether at the start or end depends on how important your brand is or how important the keywords are). Users should be able to determine what is on the page just from the title. Product websites should have the product name, service websites should describe the service.
4. Meta "description" tags
Meta tags are HTML tags within your page's <head> section. To identify it here is an example of a description meta tag:
<meta name="description" content="Our BLOG will give you ideas to help increase your website's visibility">
The meta description tag doesn't improve your search rankings in any way. What it does do is allow you to customise your message to users who happen to have found you on the web. Consider a Google search for Coffee tables:

The text highlighted above is in the site's meta description. This is what people see when your site shows up in their search results. This is your chance to attract customers to your site rather than another one that might be in the results (your call to action). You only have about 150-160 characters here. Make sure you think about a good page description to encourage your guests. Try not to exceed this amount because nothing is more frustrating than having your message cut short. If you do not specify one on your page, you are at the mercy of the search engine. They will often show the search terms in context somewhere in the content, which can be quite random.
5. Headings
Heading within the page are also important for the search engine to determine your content. You must always implement headings using the designated HTML heading tag "h"... so <h1> <h2> etc. Headings inform the search engine about the content within it. They treat the text within the headings with a higher priority to describe the pages than the text within. Here are some general rules:
On a page that has normal textual content always have one AND ONLY ONE <h1> tag
You can have as many <h2>, <h3> etc.
Tags should be sequential. <h1> to <h2> to <h3>. Don't skip a level and only one h1!
Something else to remember is to not "over-head" your pages by putting too many headings with too little content.
6. URLs
The URLs (which is the text that is in your browser's address bar when you navigate through a site) should be human readable. It should "somewhat" describe where you are in the site structure. It is important to use hyphens "-" as word spacing (otherwise you will see escaped codes like %20, which are hard to read).
e.g http://www.example.com/category-page/subcategory-page/product-or-page
Examples of good SEO URL's:
http://www.abc.com/reviews/cameras/sony-md-400
http://www.abc.com/pages/about-us
http://www.abc.com/wines/red/chateau-la-paix-2013
Examples of bad SEO URL's:
http://www.abc.com/getItems.aspx?pID=232412
http://www.abc.com/My%20Home%20Page
you get the idea!
Another thing to keep in mind is to allow short URLs for promotions and mini-sites. This helps your users remember them if they wish to enter them in.
e.g. http://www.abc.com/giveaway
7. Image "alt" tags
The original use of image alt tags was to display text in place of an image. This helped users if they decided not to download images due to slow connections, or perhaps they were short of sight and were using a screen reader. More recently though, search engines use the alt text to support image searches such as Google Images. If you want your images to appear in these results then provide some alt text in your image tags:
<image src="/images/blackdog.jpg" alt="Black lab jumping fence" />
8. Speed & Responsiveness
The previous blog post to this one talked about responsive web design (RWD) and why you need it, but speed is also a factor. A site that can load quickly is more favourable than one that takes a long time. You can use your analytics software to determine which pages are too slow and which ones load quickly. Google also offers a Speed checker here : https://developers.google.com/speed/pagespeed/insights/
9. XML Site map
An XML site map is in essence an XML file, which describes your site hierarchy to the search engines. The file may also contain meta data about your site along with frequency of page updates. You can find more about XML site maps here: https://support.google.com/webmasters/topic/4581190?hl=en&ref_topic=4581352&vid=1-635753124156451662-13739010702747765071
10. Friendly error messages
There's nothing worse when visiting a website and seeing an error message. Perhaps it shows application source code or maybe just the built in browser 4xx or 5xx error messages. The search engines don't like them either. An error free site is a healthy site and much more likely to gain traction with the search engines. So, where possible, use friendly error message pages. Try and make the messages make sense and offer the user to click back to the home page at least. Some other tactics are using humour and/or apologising:
"Whoops, we can't find the page you were looking for"
"Sorry, but our site is down. Please come back real soon!"
A list of DONTS for SEO
Finally we close with a short list of things you should not do if you want to be among the high rankers in the search results...
DO NOT duplicate content anywhere on your site. In particular, don't have many sites with the same content. Redirect any other URLs you might have to one single URL that the search engines see as your primary URL. It is wise to not even duplicate titles anywhere on the site. Don't have two URLs that go to the same page (also seen as duplicating content)
DO NOT migrate your old site to a new site without understanding the implications and how redirects work
DO NOT attempt to saturate your pages with keywords. Don't try and mask these keywords from your users by colouring them white or something, but hoping the search engine will pick them up
DO NOT exchange links on a large scale or affiliate yourself with unrepeatable websites (or spam sites)